RaVolt is a triple-redundant, whole-home microgrid that allows your home to be fully grid-independent or partially grid-tied, so you will never be without power. Maintain your current lifestyle with the capability to be fully off the grid.
Our patented RaVolt enclosure unit allows for flexibility in how your home is powered and installed outdoors, saving you space while providing you safety and peace of mind.
Explore more details on RaVolt below.
We have a simple and highly powerful approach to all our customer's energy needs. Our 4-step process will assist you in getting the right RaVolt system for your needs, coordinate with installers, and get you on your way to total energy independence.
Our Energy Consultants use our proprietary design model to evaluate your home and energy needs to optimize a RaVolt home microgrid for you. During our discovery process, we dive into three sets of criteria to determine what configuration and size RaVolt microgrid are right for you. In this process, we determine the optimal amount of solar generation, battery storage needs, and backup generator requirements. Our microgrid is also scalable to allow it to grow with your family's power needs.
You will pick from a configuration like the ones listed below. 



Then our energy Consultats will help you pick the best available unit set up for your power needs, as illustrated below.  
Back-up generator connection
Tiny Home or Off-Grid Cabin
Partial Backup / Grid Tied
Industrial and Commercial
Installer Introduction & Site Visit
We team you up with a licensed RaVolt installer in your area to create your build plan, including the solar panels, delivery, and installation, all with one final price. They will assist you with all the technical details on your specific site delivery based on the site visit and handle all the details of hooking everything together. 
You can visit our installer page for details on the closest installer to your area. However, more installers are being added to our roster every week, so if you do not see one listed that works for your area, don't fret, we'll have you covered. 
Manufacturing & Site Delivery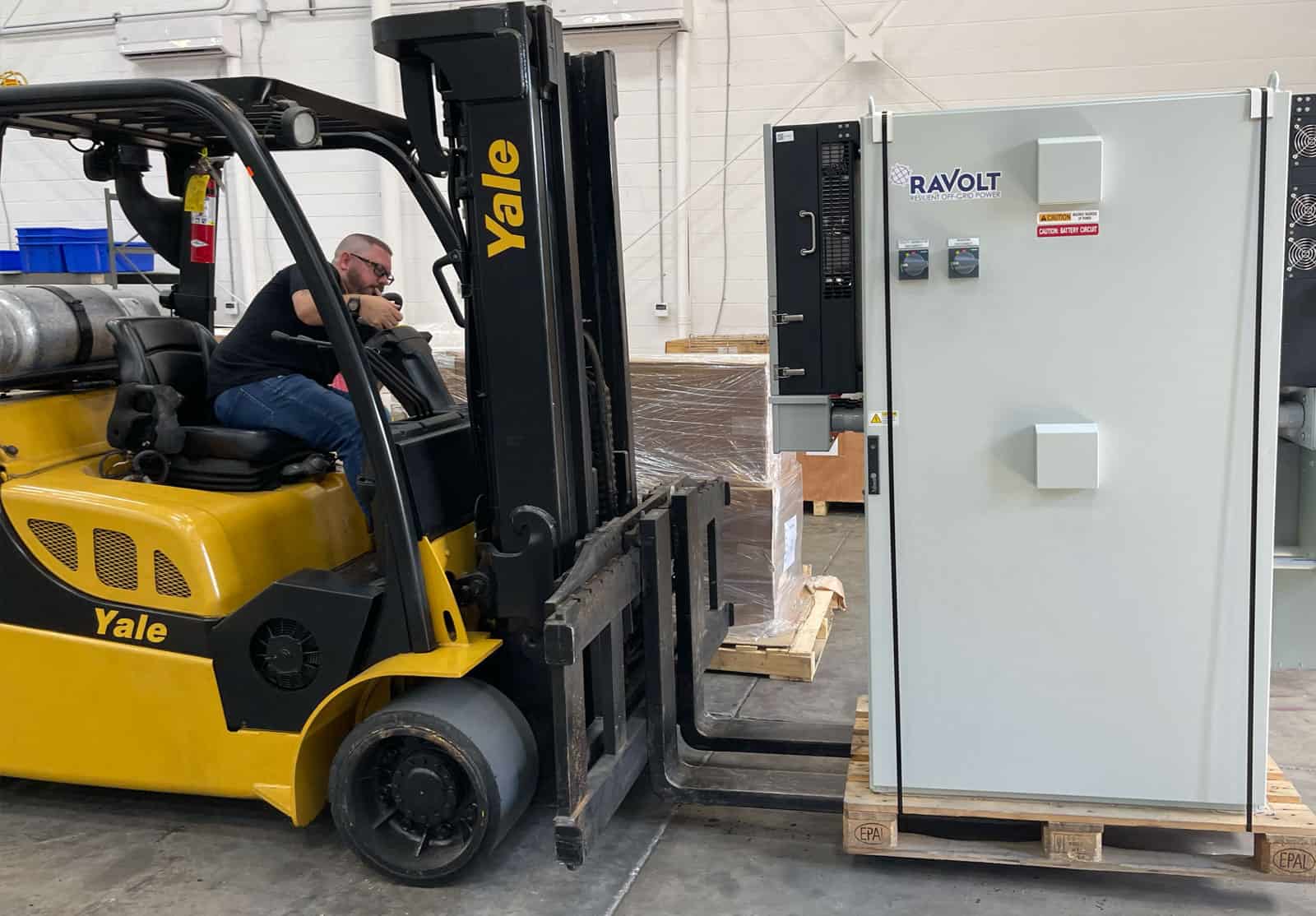 Upon approval of your design plan, your unit is built to order in RaVolt's manufacturing facility. We proudly manufacture the RaVolt home power plant in the USA. Our facility specializes in the production and integration of RaVolt scalable and patented systems. In the plant, each RaVolt enclosure is assembled by technicians with hundreds of thousands of hours of expertise in electrical component integration and to the highest standards in the industry.
Quality control procedures ensure accurate tracking of each unit's progress down to the serial numbers of the components, with each wire labeled and tested. 100% of our components are listed to appropriate standards, although they are not listed together as an integrated unit. After construction, each system passes a rigorous inspection and live integration testing prior to shipping to the site. This ensures that your RaVolt unit is ready to power your home the day it arrives.
Certified Install & Completion
Partner schedules installation and ensures the product meets the partner-supplied equipment for the use of your new RaVolt Whole-Home Power Plant. And that's it, you now have energy independence!