Recent utility outages in Texas, California, the Southeast, and all over the USA have been dangerous, frustrating, and even deadly. Your home and family deserve better than today's unreliable, dirty and aging electric utility grid and power generation. You never know what you'll get other than increasing costs due to inefficient bureaucracy, outages, complex rate tariffs, demand charges, taxes, system upgrades, and guaranteed profits for monopoly utilities. Don't let unreliable power from severe weather, storms, rolling blackouts, and grid instability leave your family in the dark. Why not untangle yourself from all the risk of losing quality service by gaining grid independence, managing your own power, and saying goodbye to instability?
We get it. Making the switch to grid-independent solar power is a big decision. But RaVolt makes it easy. Here's how:
On & Off-grid solar solutions are our specialty.
It's what we do, what we know, and what we excel in bringing to you. We have hundreds of megawatts of experience, a unique, patented design, and a whole house power solution you won't find anywhere else.
Our critical components are industry proven, impeccably tested, and sourced from right here in North America!
We believe in grid-independent solutions.
Because of that, we design RaVolt solar microgrids specifically for grid independence. This saves you money because there's no need for a costly grid connection. Most solar companies sell regular old solar panels and expensive temporary backup solutions that don't offer your family the freedom and security you deserve. RaVolt provides the WHOLE solution. It powers any home, anywhere. It also features triple redundant power sources. All you have to do is choose your backups, like batteries, a generator or your existing utility service. It all adds up to resilient power and total independence!
We make sure it works for how you live.
We offer professional service from the beginning to the completion of your installation. Our proprietary design assesses your current usage and future plans, then customizes the solution for you. Our commitment is to design safe, reliable solar power for your home without compromising your lifestyle. And systems are able to be quickly installed in as little as one day. That means minimal disruption to your life and a faster solution for your off-grid energy needs.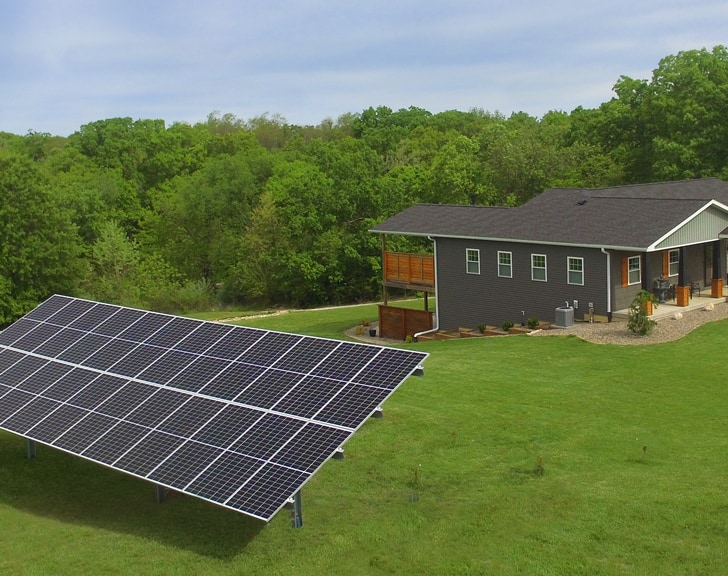 It's also future-proofed. No need to worry about being stuck with a roof full of outdated solar panels a few years down the road! With our ground-mounted system, we can scale our solution at any time to include additional solar, batteries, and backup power to support your changing home and family energy production needs
We ensure that it's always a safe, smart solution.
From installation technology to the components we use, our energy solutions are always brought to you with safety in mind. We only use the most stable lithium-ion chemistry, place all power electronics and batteries in a safe, enclosed structure outside the house and install everything without ever setting foot in your home.
The RaVolt team are experts at developing smarter approaches to our microgrid technology, such as artificial intelligence, predictive modeling, and home automation integration.