Our reliable off-grid, power plant solution is made up of safe, resilient components that play a pivotal role in providing you with grid independence. We'd like to highlight one of those key components, Advanced Lithium-Ion batteries provided by our partner, Discover Battery, and discuss exactly why they're so important.
The Discover Advanced Energy System (AES) LiFePO₄ lithium-ion batteries have a lot going for them, a Battery Management System (BMS) with integrated CAN communications that maintain them at peak capacity for longer while adding safety protections and efficient integration with our smart solar microgrid inverters. Couple that with its dynamic, fast-charge capability from solar or generator power, plus a dashboard and monitoring that always keeps you informed, and you have the kind of superior component that meets our extremely high standards.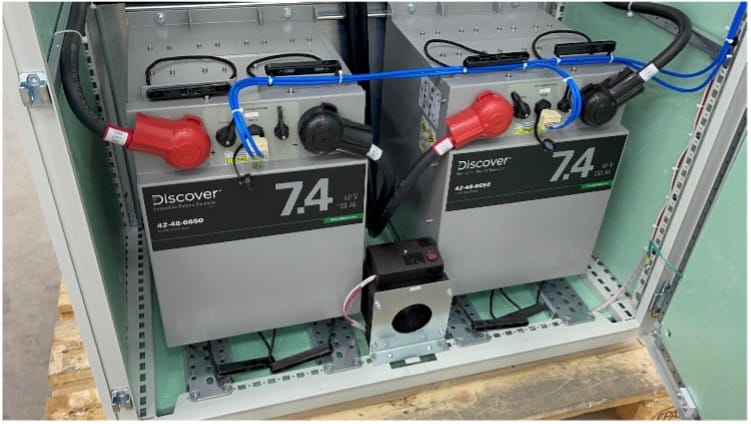 So, why is Discover our preferred battery? The above features go a long way, but there's even more reason to love this solar battery. It is:
Extremely scalable, which allows our microgrid to easily scale to your home
Energy and power-dense, meaning it can supply a lot of current (power) and store a lot of electrons (energy) in a small space.
Safe, using the most stable lithium technology, advanced BMS including two-way communication with our microgrid, adding integrated overcurrent protection and the regulatory approvals to ensure it's passed rigorous 3rd-party safety testing.
But the biggest reason to love Discover is that they're a global leader in a multitude of battery types including automotive, industrial, recreational and clean energy and have been innovating and improving toward a better future since 1949. Their financial strength and diverse business mean their warranties are bankable and backed up by real-world experience. We're proud to work with them to push the boundaries of what Ravolt microgrid power can do for homeowners like you.
Speaking of you, what does all this mean for you as a RaVolt customer, your setup and your bottom line? Let's look at how this battery being part of your RaVolt microgrid directly benefits you.
A longer runtime – Double the high-current runtime of lead-acid batteries, plus up to 100% usable capacity and depth of discharge
An extended service life – 10x the life of lead-acid batteries and a 10-year energy throughput warranty
Faster charging – Up to 10x quicker charging than even brand new lead-acid batteries and 2x faster than C/2 Rated lithium batteries
Higher efficiency – Up to 50% more energy-efficient than lead-acid batteries and up to 98% round-trip efficiency
Safe and reliable – Maintenance-free and thermally safe in a sturdy steel case and cover
Learn more about Discover Batteries