THE RAVOLT POWER PLANT IS THE BEST WAY FOR A DIY'ER TO GET OFF-GRID WHOLE-HOME POWER QUICKLY AND EASILY
The RaVolt Home Power Plant is a patented integration of power generation and energy storage that allows for a completely grid-independent home. We focus on keeping our power plant's install time to 1 day. We've thought of everything, so our box arrives on-site fully integrated and preconfigured for a plug-and-play installation.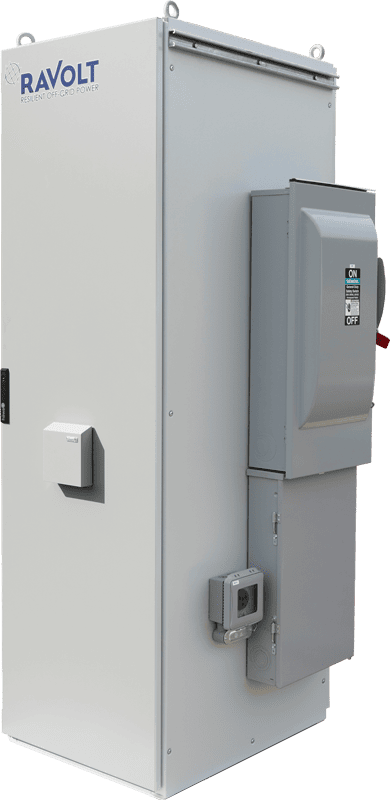 The drop-in-place unit arrives on site pre-wired and configured with the inverters, batteries, PV disconnects, service entrance disconnect, RV plug/GFCI outlet, and load center so installation is as simple as it can be:
1) Land PV strings on Prewired PV disconnects
2) Land backup power source on prewired AC disconnect 
3) Land AC load on prewired Loadcenter
**Please note: This is the UNIT ONLY and does not come with RaVolt preliminary sizing support, auxiliary components like racking, modules, or BOS, and is for qualified personnel only. Please contact us with any questions.

Base Price:

$29,586.00
We offer the only home-scale power plant available in the industry. The RaVolt enclosure has the ability to power your whole home with grid-tied or grid-independent capabilities. Our patented technology is movable, scalable, and can even be installed before your home is built to provide power during construction.
Designed for Outdoor Use
Standalone enclosure installed outside
Internal heating and cooling
NEMA 3R – Weathertight
Scalable
Add more power and storage later as your property evolves
Easy future system expansions
Triple Redundant Power
Provides power via seamless transition from solar p

anels, batteries, backup source

Programmable, automatic, and flexible power delivery
Extras
Pre-wired for easy installation
50A RV Plug and GFCI outlets
Wi-Fi enabled for online monitoring
Can be installed before home is built
Compatible with roll up generator and wind turbines
RaVolt Model HPP15-15 Enclosure Specs
Max AC amps on grid or with generator
AC Off-grid power Battery + Solar
AC Off-grid power Battery